Translation services that fuse diverse expertise with technical knowledge
Taking into account our clients' needs, including the background and intended purpose of their translation projects, we deliver high-quality translation services that are optimized to bridge linguistic barriers in any business scenario.
Translators with professional expertise in specialist fields
We have a network of approximately 6,000 translators with professional expertise in a variety of specialist fields. We select an appropriate translator for each translation project based on the translation category and document type. For more complex translation categories, we ensure peace of mind for the client by cross-checking the translation.

Increased efficiency and quality through proprietary engineering technologies
Our engineers have developed tools that enable us to deliver high-quality translations efficiently and reliably. These tools allow us to complete translations expeditiously without sacrificing quality, thereby ensuring that we meet client needs in every project.

Client-specific glossaries for improved translation accuracy
In accordance with the individual client's preferences, we create a glossary (database) of phrases and industry jargon that are commonly used in each project category. These databases are meticulously managed and updated to include client feedback, as well. This limits the risk of inconsistencies in the use of terminology and improves the translation accuracy.
Proprietary translation checking tools that prevent mistakes before they can happen
In large-scale projects that call for a high degree of expertise, our translation editors and proofreaders use our proprietary tools to ensure that numbers and symbols are accurately used and that the spelling is correct. This helps to eliminate mistakes that may otherwise go unnoticed.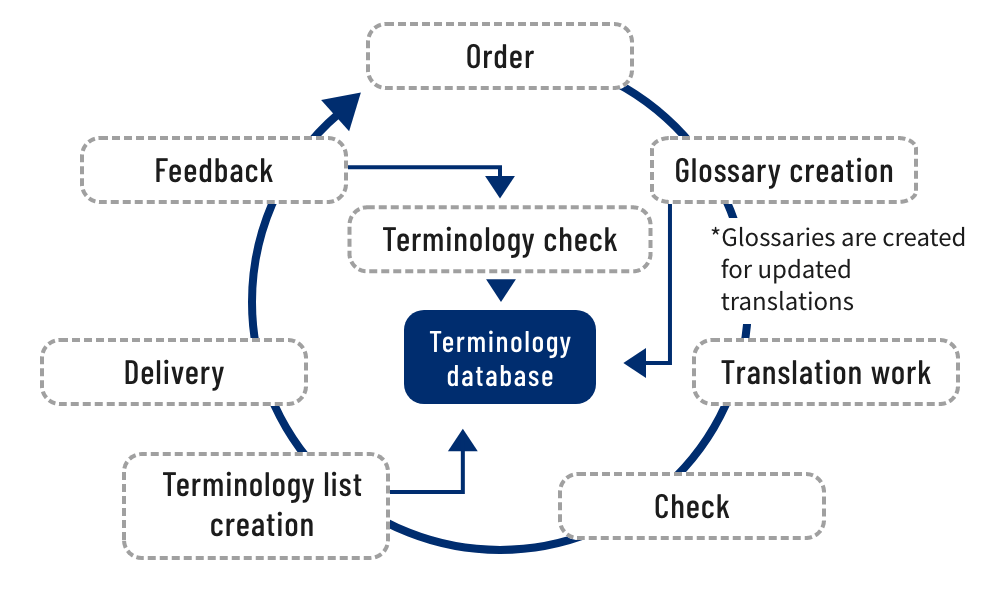 Human resource training to ensure reliable, high-quality work
Ever since SunFlare's establishment, many of our registered translators have graduated from SunFlare Academy, a translation school that prioritizes translation quality. We provide regular training and client feedback to our translators, proofreaders, checkers and every other member of our translation team, because consistently improving quality is one of our core goals.
Relationship with SunFlare Academy
SunFlare Academy caters to a variety of different lifestyles by allowing students to either attend lessons in person or learn via a correspondence course. Since our lessons feature practical content that can be applied in actual translation work for SunFlare, our students acquire a well-rounded knowledge base in a wide range of industry and business categories. Students who pass our Translator Qualifying Examination (TQE) are also entitled to register with SunFlare. To date, over 3,000 translators have registered with us through this system.

A translation workflow that satisfies client needs
SunFlare constructs translation systems that cater to the individual client's needs. Prior to every translation project, we meet with the client to clarify the project specifications and then select the optimal translator for the particular category. After the translation has been edited and proofread, the documents are generated using the client's choice of application. In this way, we are able to deliver documents that meet the individual client's needs, allowing them to be used immediately without further alteration.
Inquiries, quotes and orders

Comprehensive discussions held with client

Client inquiry received and meeting conducted
Quote delivered
Order received

Project preparation

QCD optimized

Specifications, glossaries and reference materials prepared
Staff selected and assigned to the project
Schedule established
Modification management conducted

Pre-translation processing

Translation files prepared

Translation

Translators with expertise in the relevant field and language selected

Translation conducted by translator with optimal skills

Quality checks (editing and proofreading)

Work process divided up to ensure high quality and more flexible support for complex projects

Checks conducted to identify mistranslations, incomplete translations and specification non-compliance
Checks conducted to identify typographical errors, incorrect numerals and spelling errors
Checks conducted to ensure consistency in terms of terminology, wording and style

Post-translation processing

Translation files cleaned up
Features such as the table of contents, index, and links restored
Preparations for document generation made using DTP and other methods

Editing (DTP/engineering)

Challenging editing requirements dealt with expediently by appointing expert staff

Layout designed, charts and diagrams adjusted, and draft documents generated
Online documents generated and tested (using an application of the client's choice)

Proofreading

Editing checked
Final checks conducted to identify typographical errors and style issues

Final check and delivery

Final check conducted by the project manager
Translation delivered (by ANDEX, email, post, or client visit)

Feedback

Focus placed on continued improvement

Feedback recorded and database created
Client specifications and glossaries updated based on feedback
CAPA implemented and non-compliance database generated
Managing security and quality through three types of authentication
We are one of the few translation companies that have acquired Information Security Management Standard Certification (ISO 27001), Quality Management Certification (ISO 9001), and the international certificate for Translation Services (ISO 17100). We are able to provide high quality translations in a rigorous IT security environment that protects our clients' confidential information and allows us to earn our clients' trust. *For compliance with ISO 17100, we will only take on jobs that have been specified in advance.